About Chi Spa
Stress is a common element in our lives. If left unresolved it causes muscular tension. The muscular tension can result in a decrease in blood flow thus the oxygen supply to the tissues and organs, causing aches and pains, fatigue, and eventually malfunction of organ systems. The muscle tightness and stiffness can also increase the risk of injury in daily activities. At Chi Spa, our licensed therapists help you to relieve stress through massage therapy, acupuncture treatments, detoxification, and nutrition. We are committed in bringing you results that positively impact every aspect of your body and mind.
Chi Therapists
Tanya Prado, LMT. Tanya is a graduate of East West College of the Healing Arts in Portland, Oregon. Previous to a career in massage, Tanya had a background in design. She enjoys using her creativity and practical knowledge to customize sessions for each client. Although she utilizes many different massage modalities, her favorites are Thai massage and Tui Na. Tanya is excited to help people reap the benefits of therapeutic touch and preventative care.
Jennifer K. Moore, LAc, recently moved from Arizona, where she was specializing in treating chronic pain management, stress relief, and toxin accumulation with acupuncture. She uses auricular, scalp, and facial needles to address issues such as seasonal allergies, craving control, sleep issues and pain control.  Jennifer obtained her Master of Science in Oriental medicine in Southwest Acupuncture College, Albuquerque, where she worked in rehabilitation hospital and domestic abuse center to help patient heal.
Hank Harrach, LMT. Injurred by a car accident at age 19, Hank experienced massage as one of the modalities that helped him to recover. The more he learnt about massage and other related healing art, the more he was impressed and inspired by their effectiveness. It eventually led him to pursue massage therapist as a career choice. Hank is passionate about mastering the art of body work for clients and practicing martial art for self-healing.
Natsuki (Naki) Hayashi is a talented massage therapist.  She was a certified Kembi-so (a form of oriental exercise) instructor and wellness trainer in Japan before she moved to Eugene a few years ago. She also has an excellent and diverse international experince in client services. She has a delicate touch which suits clients who needs moderate pressure but deep tissue work for smaller muscles.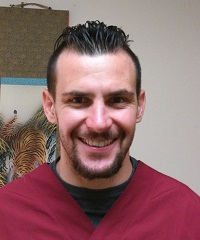 Christian Rowell, LMT. As the most experienced massage therapist at Chi Spa, Christian specializes in injury rehabilitation and sports medicine. He also practices martial art and is enthusiastic and rigorous in pursuing a healthy life style. His desire to help others and his prior experience working at various chiropratic clinics or wellness spas have made him well attuned to clients' needs to help them recover and heal. Beside massage therapy, he is also training and sharpening his skills as a wilderness rescuer.
Jian Zhang van Enk, LAc, PhD. Jian is the new owner of Chi Spa since February 25th, 2014. Before she became an acupuncturist, she worked as a scientist in technology and biotech companies. She's passionate about the whole person approach to health and she believes in bringing the best of Eastern and Western medicines to serve patients. Her vision for Chi Spa is to make it a place of healing for patients who prefer natural medicine or need complimentary care, a destination for people to detox, relax and rejuvenate, and a fulfilling place to work for the Chi Spa team members.